Worrying.&nbsp That was my next step.&nbsp So I then ran to the archives and began to see Iím not the only one apparently.&nbsp People were making elaborate jigs out of aluminum or buying heaters to attach to the speaker terminals to heat the coils until they lied flat etc...
Well F*CK that.&nbsp I will be damned if I am going to go to an extreme like that to make up for the shortcomings of a product that does not work.&nbsp Iíll find a product that does work instead.&nbsp So after a little thought only one thing came to mind.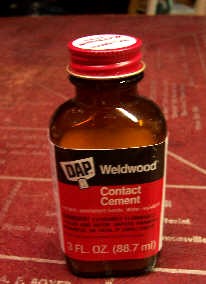 Yes, DAP Weldwood contact cement.&nbsp It is also acetone based, but unlike 3M Super 77 , it WORKS.&nbsp I have used it in the past to adhere veneer, and it never comes off, EVER.&nbsp Wet part A, wet part B, attach parts, you now have part C because you are never getting them apart again.&nbsp This little bottle cost $2.65 compared to nearly ten bucks for the 3M.
There is required care in itís use however, which I will explain.
So I returned to a newly stripped panel to try my luck again.&nbsp For application purposes I used 2 sizes of artist brushes, NOT again the one that comes in the bottle.&nbsp In fact, I cut that one entirely off to facilitate ease of use and recommend you do likewise.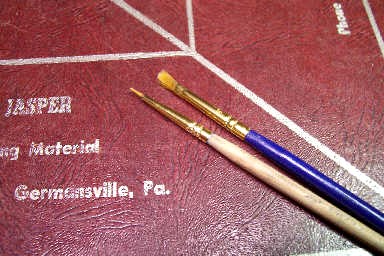 I used the fatter blue brush (1/4 inch wide) to first apply adhesive to the undersides of the wires.&nbsp I shortly found the glue was already curing and getting a little stringy out of the bottle.&nbsp The trick is to keep dipping the brush in acetone as you work.&nbsp From time to time you also have to stop and clean the buildup that happens.&nbsp (be careful doing this.&nbsp Acetone dissolves the glue holding the bristles in the brush, so be careful not to pull at them or you will pull them right out) I did 2 or 3 wire rows, and then did the corresponding part of the panel.&nbsp For the Mylar I got the brush good and soaked in the acteone first, then got a good glob of adhesive and wiped it on with the ďgrainĒ.&nbsp When getting to where the coil touches the Mylar, allow the brush to run under as far as it can.
When putting on the DAP, you canít be a slob, but you also canít overly worry.
Even done right, it will look like itís going to be ugly, or dark etc... but if you use care it will turn out OK.
The trick in applying it to the wires is to keep the brush wet by cleaning it after every 2-3 coils with acetone, and to apply a ďniceĒ amount.&nbsp A ďniceĒ amount is putting the brush in just up to the ferrule and pulling it straight out of the DAP.&nbsp Donít try to ďdigĒ more.&nbsp Then apply per the diagram below by not only moving the brush, but slightly turning it as you go to prevent globs.&nbsp If you just move the brush it will act like a plow and will glob glue in front of it.&nbsp On top of it the DAP will naturally hang from the brush.&nbsp Thatís why you must spin it as you go.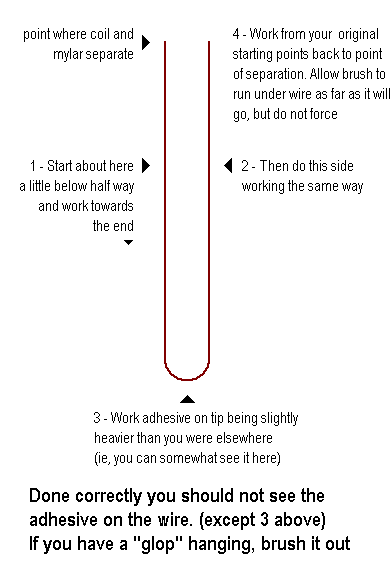 You also donít want to start where the coil and Mylar are in contact because it will glob there and you canít get under to make sure it is coated.&nbsp Starting a bit below halfway, and going to the tip first seemed to work best for me.
Now, of course you donít have to follow my pattern, but you should keep in mind to turn the brush, make sure the tip gets done well, and get as far under the wires where they join the Mylar without clumping it.&nbsp And keep cleaning the brush as you go.
When you do the Mylar have the brush much wetter, but also grab more glue, and apply it with quick, long strokes.
In all cases, even if it looks bad, DONíT RE-DO IT!&nbsp This product does not want to re-apply over itself.&nbsp Trust me, what you did will work, and it will also look better once it dries and cures.
Doing one side of a panel only took about 15 minutes.&nbsp Itís only marginally anal retentive, and itís over very quickly actually.
I would then go and do the next 2 coils, allowing the adhesive Iíd applied to set.&nbsp Then, I pressed the coils back to the Mylar in line with the magnets as explained before.&nbsp To do this I took a clothespin apart and used the flat bottom edge as a pressing guide.&nbsp Repeat until the panel is done.
I let it dry a few hours then put the Milloxane on.&nbsp To my surprise it again lifted, but only at like 2 places and only very slightly at the very tips.&nbsp Water based items donít dissolve acetone based ones, but perhaps even more time curing might help.&nbsp I only needed use the fine brush above to re-wet the tips with the DAP and press them back down.&nbsp They have since held fine and the result is much cleaner looking and less grungy than the 3M job was.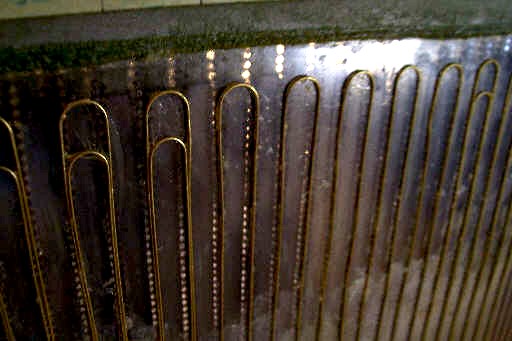 Chapter Six - Bench Test
The next step is to hook them up and listen, a good long while to various buzz causing pieces of music.&nbsp Youíll notice top left in the pic, the ceiling wallpaper came off.&nbsp Thatís right, the 3M Super 77 adhesive I put them up with ISNíT HOLDING.&nbsp I have to redo the ENTIRE ceiling.&nbsp Thatís no surprise, it didnít hold the blue tiles on either.&nbsp I had already redone them with liquid nails.&nbsp It didnít hold the grey ones on the side wall either, ditto.&nbsp Well, we know it wonít hold Maggie voice coils on as well, so whatís the shock?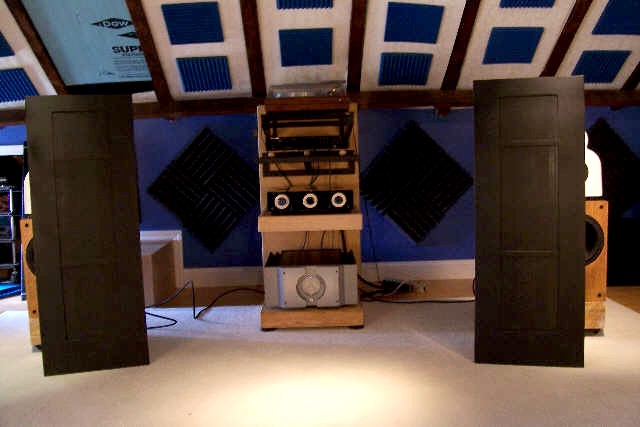 In a short while it was clear the repair job was a complete success, but I did have rattles amid panel.&nbsp Play the selection that makes them rattle and go stand behind them and listen.&nbsp Youíll be able to hear and ďseeĒ exactly where it is coming from, but be careful and DO NOT touch the wires while they are playing.&nbsp Remember or write down the locations, unhook them, and back to the work table.
While flat, lightly brush your hand across the wires where you heard the buzz like youíre playing a harp.&nbsp Youíll soon find the loose ones.&nbsp My solution was to take the fine brush again, dip it in the DAP and carefully ride it under the wire, being careful to get both the wire and the Mylar covered.&nbsp No, I did not strip on this step, I was just slightly heavier with the DAP.&nbsp Let it set up, and press back down.
After curing again I hooked them up for more testing.&nbsp Iíve put about 10 hours in and not a buzz, and they sound great.&nbsp Be careful you donít use Ivyís ďHideawayĒ.&nbsp My wife wanted to hear it and there is an odd buzz sound in it that when your ears are perked for Maggie buzzing makes you think itís them.&nbsp I swapped the Alons in and heard the same thing so it was just the song.
Chapter Seven - Moral & Conclusion
I do not doubt some chemist will reply and say I could have ruined the Mylar using the DAP or god knows what.&nbsp If the gushes or acteone donít harm the Mylar, the DAP sure as hell wonít.&nbsp Plus it is designed to be used on wood which moves (seasonal expansion and contraction) and not come apart, so clearly it does not dry hard and is not effected by, nor does it effect, movement.
Used judiciously it can be applied very lightly yet it holds so strongly I honestly believe no Milloxane is afterwards needed.&nbsp I used the Milloxane afterwards because I had it, but I know many people realize they need to redo Maggies in October only to find Magnepan is no longer shipping it.&nbsp (because it freezes in the mail being water based and that ruins it) So, who wants to wait till May with buzzing Maggies?&nbsp Not me.
I believe you can use the DAP and solve your problem right here and now.&nbsp If you are the worrying type, order the Milloxane next year and put it on as well, but I think the DAP does the job.&nbsp It actually bound the wire to the Mylar, so it doesnít need the plastic Milloxane coat to hold it there.&nbsp Of course time and further experimentation will tell.&nbsp So far my results have been very good.
Thank you for getting thru it all, and I hope this will be of some help to the loyal suffering Maggie owners out there.&nbsp Set yourself free from 3M and Milloxane, and enjoy your music again.
And now the next step, the parts upgrade...

Itís all about the music...
original post