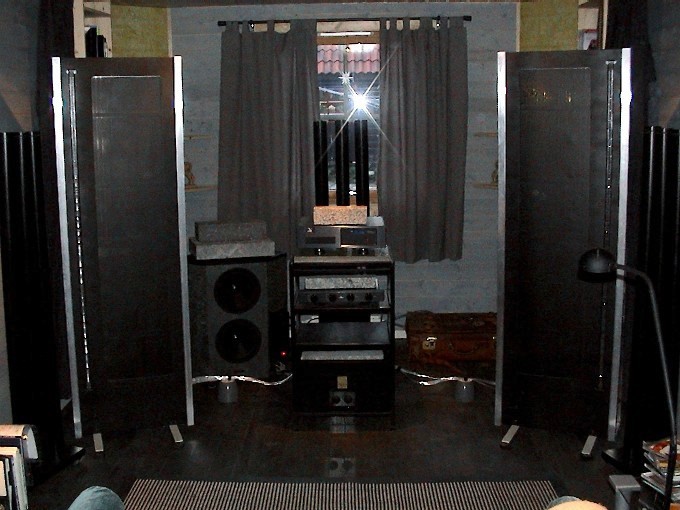 ---
( click on following pics to enlarge )

Maggies & front DIY room lenses
LEFT


Maggies & front DIY room lenses
RIGHT


Audio Physic Rhea subwoofer
& lots of Chinese granite


Rhea & power conditioners close-up


Sioux carpet


DIY passive X-overs,
stands & rear room lenses
1st Modifications

Structural

Replacement of the wood sidings with aluminum U-profiles, glued on with heavy duty boat glue

Mounted aluminium plates on the back stands/feet extensions to make stands more rigid and provide platforms for the heavy weight concrete slabs under x-overs

Further stiffened with aluminium "bars" mounted between the aluminium sidings down to the aluminium platform

Crossovers

Removed all original wiring and crossover components

Built new X-over and wiring from ground up

Prepared for bi- (and later tri-amping) with active X-over(s).
---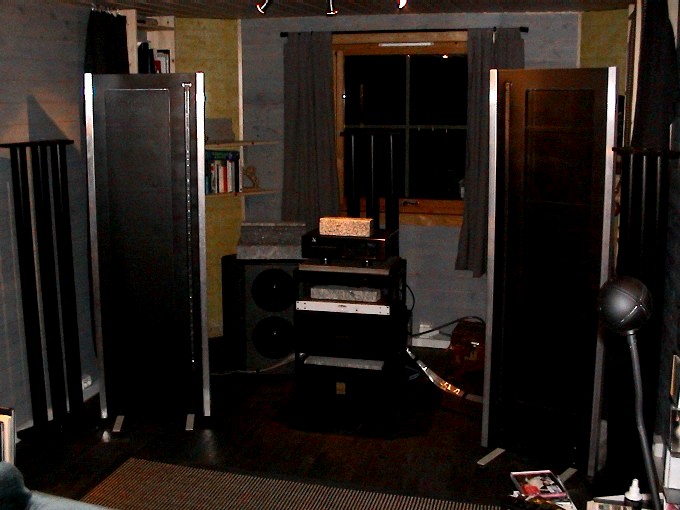 ---
( click on following pics to enlarge )
| the Stack | Passive filter overview |
| --- | --- |
| Stands, stone & filter sideview | Power filtering & cabling |
2nd Modifications

Crossovers

Bi-amped with (Dynamic Precision) electronic crossover between bass and mid/tweeter. This crossover is a 24+24 dB/Octave phase correct crossover @ 300 Hz. This means I had to switch polarity for the entire mid/tweeter section as well as the sub. The 24dB slope for the mid high pass gives a slight boost in the lower mid/upper bass region which makes the sound a little woolly and congested. Electronic crossover with similar slopes as original passive filter is recommended (and is my next project).

Rebuilt passive (formerly internal) 3kHz crossover between midrange planar and the true-ribbon tweeter. Same values as original, but with premium components such as silver in oil caps and foil (12 & 16 AWG) coils.
---