Pictured here are the Philips SACD 1000 player, Assemblage hybrid tube/FET preamp, Rotel RB-1090 amp, and Magnepan 1.6QR's. The components are sitting on an Atlantis Reference rack. Also visible under the TV is a Hsu VTF-2 subwoofer.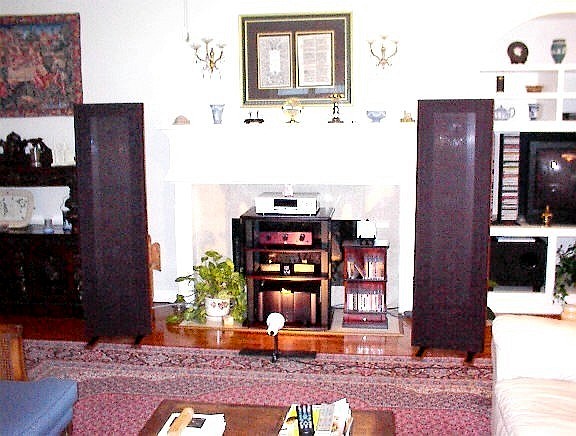 Here's a view of the DIY speaker stands and the upgrade crossover. The stands are modeled after a pair I saw in the tweaks section. The feet are 24" long, 2&frac12" wide oak boards stained to match the floors. The stock Maggie feet are screwed directly to the boards. The uprights are 5 foot sections of &frac12" conduit inserted at the bottom into a PVC plumbing bracket, which is attached to the boards with metal straps. Each crossover incorporates a North Creek 12ga inductor and a 22uF Auricap. For the woofer shunt caps I used the stock Solens plus a 3uf Multicap to take the sandwich up to the required 25uF. There is also a tweeter attenuator bypass switch which bypasses a 1.5 ohm Mills wirewound resistor. Each crossover is contained in a plastic box attached directly outside of the original crossover space on the speaker. The tweeter cables are Kimber 4-TC, the woofer cables are MIT-4. All cables are hidden as much as possible to enhance the WAF factor of the system.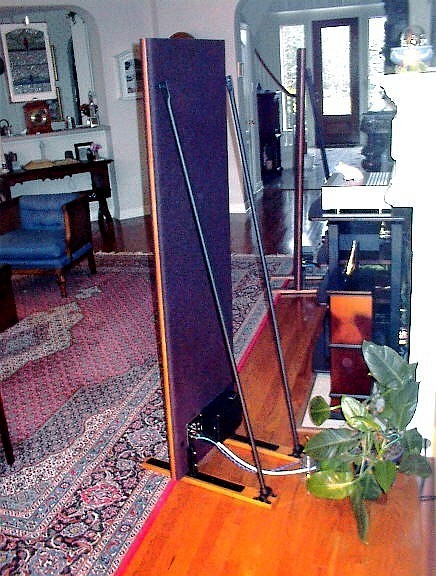 Here's a closeup of the base of the stand and the crossover.