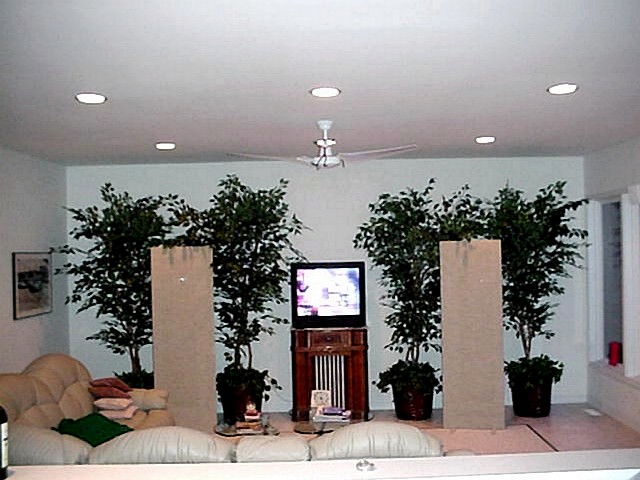 Just thought I would share a few pictures of what I've been doing system-wise lately ( besides growing 7½' tall faux ficus afforestation )
---
( click on the following pics to enlarge )

Old Original Stereo
Rack Opening


New Rack Under Construcion
In Opening
First, we finally got a cabinet-maker to come out and build the oak stereo rack / media storage center I designed when we built the house 1½ years ago (it goes into the original opening in the end of our foyer's coat closet sandwiched in between two exterior doors)

In-Wall Stereo
Components Installed


CD & DVD
Storage


Stereo Rack Access
& Entry Closet


Inside Closet Component Connections
This single rack is nearly equidistant to both of my Maggie rooms that it feeds

( The other of which is depicted here )
---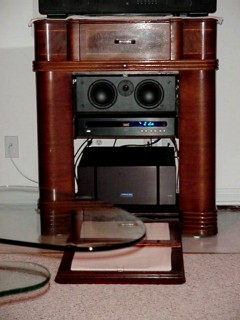 our "Straight Wire
with Gain" System
Second, hidden inside the old Philco hi-fi set ( that we use as a TV stand ) is a Cary CD-308 plumbed directly into another bridged Citation 7.1 amplifier, which is our "Straight Wire with Gain" system
---

Maggie's
Feline Condom


Kitty Suspects
( Shelby & Porsche )
"Innocently" Playing Nearby
in a Diffuser's Planter
Third, we just got 2 kittens, which required a mod to our MGIIIA's ... as in wrapping them up in plastic sheeting so they will not be used as climbing walls until they leave their front claws at the vet's office in a couple of weeks
Porsche checks track conditions
for my raincoat free MGIIIA's
with their new MyeStand chassis
& old trim stile free appearance

meanwhile Shelby is in the pit
inspecting the chassis & the
stock XO elevated up on my
new oak board mount
---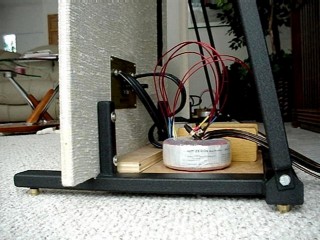 added spikes on stands
& trying autoformers
This photo updates my "progress" toward our quest for

'purity in sound'

where I have mounted the spike feet to the

Mye stands

, and am also in the trial phase of a pair of

Zero auto-transformers

We're KEEPING the Zero's mainly because they did noticeably tighten up the bass of the MG3A's. &nbsp The downside of running our amplifiers in "bridged" mode is its negative effect on damping factor, so that coupled with 30+ foot runs of speaker cable

(for the HT part of the system)

meant they had their work cut out for them managing those large panels. &nbsp The Zero's seemed to help this a lot.
---
It's been a LONG time since we had a phonograph hooked up to our stereo system. &nbsp I made a slide-out shelf for it a couple months ago, but never got around to shuffling the components to make room for it in the rack until yesterday evening. &nbsp The trusty B&O Beogram 3404 had been mothballed for several years, but sprung to life with no issues last night. &nbsp

(p.s. I don't think our Cary CD-308 HDCD player has anything to worry about )
---
---