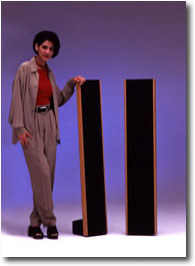 If floor space is at a premium, the 10 1/4" wide MG10.1 is for you......for either music or home theater, the MG10.1 is an elegant solution to a space problem.
Although originally designed for serious music listening, with dipole sound to below 45Hz, the MG10.1 works well in home theater systems as either left-right front speakers or as surround speakers. The planar midbass/midrange driver has over 261 square inches of radiating area which produces ample midbass to blend ideally to most subwoofers.
The MG10.1 can put an audiophile's or videophile's dream system in the smallest of rooms. Ideal for serious music listeners who want to watch an occasional movie ... the MG10.1 provides the same resolving power for both media.
Kim Wilson, of Audio Revolution, January, 1998, stated,

"I am pleased to report that the MG10.1's passed my listening test and I have christened them as my new reference speaker."
<!specifications!>

Model
MG10.1
Description
2-Way/Quasi Ribbon

Planar-Magnetic

Freq. Resp.
40-24kHz +-3dB
Rec Power
50-250 W
Sensitivity of This Model
85dB/500Hz /2.83v
Impedance
4 Ohm
Dimensions
10.5 x 53 x 1.375
Available in natural or black solid oak trim, cherry white, black or grey fabric.